All about the Windows 11 2022 (22H2) new update
October would mark exactly one year since Windows 11 was released, but Windows Latest says it will arrive sooner, in July 2022.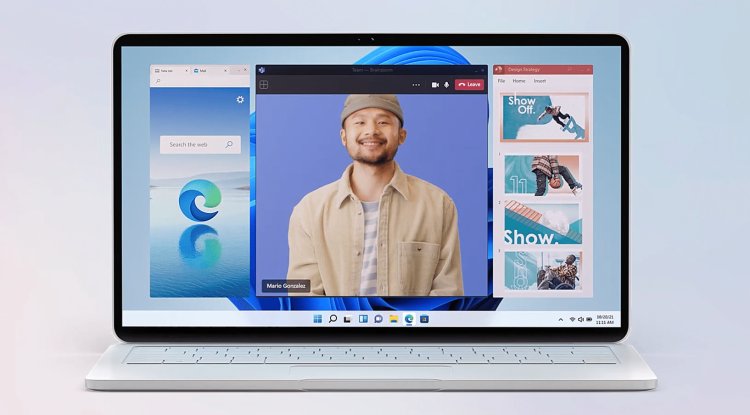 Photo Credits: Microsoft/Promo
Last year was very important for Microsoft and the Windows operating system. After previously denying that it would ever be needed, Microsoft announced and then released Windows 11, introducing the first wholesale changes in six years. These include a brand new aesthetic, redesigned taskbar and Start menu, as well as updated inventory apps. You also get new multitasking features, a dedicated widget window and support for the original Android app.
However, the new operating system is not universally well accepted. Some features have yet to arrive, despite being announced back in June 2021. Many people have also complained about the missing taskbar functionality, as well as Microsoft's constant promotion of Teams and its Edge web browser.
Either way, everything we've learned so far about the new update for Windows 11 is under the 22H2 number!
Release time of the new update for Windows 11
Shortly after Windows 11 was announced, Microsoft confirmed that the new OS would receive feature updates only once a year. This brings it in line with macOS, so in 2022, only one major update is expected.
When exactly this will be is unclear. October would mark exactly one year since Windows 11 was released, but Windows Latest says it will arrive sooner, in July 2022. The person who dropped the information, Mayank Parmar, is usually a reliable source of information, although the article suggests that Windows 11 will be one-year-old. in July inaccurate.
As with Windows 10, expect Microsoft to gradually reduce availability to manage demand. Unlike the initial deployment of Windows 11, there probably won't be a way for all devices to get an update right away, although there is another option for early access.
Can I get an update for Windows 11 earlier and how?
Yes via Windows insider program.. Microsoft has been regularly releasing early versions of Windows 11 here since June 2021, so it's the right place if you want to try the 22H2 update before anyone else.
The Insider program is divided into three channels:
    Developer's Channel: Updates arrive here first, but will also most likely be unstable and buggy. Most people should not log on to the Dev Channel on their main computer.
    Beta Channel: Microsoft recommends that most people opt for the Beta Channel. This still allows you to get updates relatively early, but without any problems with the stability of Dev Channel versions.
    Release Preview Channel: This is where updates arrive just before they become widely available. Stability here shouldn't be an issue, but general availability may only be a few days, so it's primarily for last-minute feedback.
Microsoft has controversially updated the hardware requirements for Windows 11, excluding much older hardware. Security is cited as the main reason, with features such as TPM (Trusted Platform Module) 2.0, Secure Boot and virtualization-based security, all applied as standard.
It would be amazing to see more devices selected for the annual feature update unless serious hardware vulnerabilities are detected. However, if you downloaded Windows 11 to a device that Microsoft does not officially support, the situation is less clear.
What new features will the update for Windows 11 22H2 bring?
Various upcoming features of Windows 11 have been considered, but it is not clear which will be included in the 22H2 feature update. The primary source of information so far is Windows Latest, which claims the update is codenamed "Sun Valley 2" The first version of Windows 11, delivered in 2021, was internally known as 'Sun Valley' for most of its development.
 Information leaks claim that the update for 2022 will make Windows 11 "faster, smoother and more modern", as well as deeper integration of the new design language. However, it is not clear which "native applications" will benefit, and only the new dark model for the Windows Run tool is mentioned.
The drag-and-drop feature for the taskbar is also expected to return after Microsoft dropped it because of introducing Windows 11. The company says it listens to user feedback, so a negative reaction to its removal will certainly leave an impression.
Something that might be interesting is the support for third-party service providers within the Widgets tool. This was a new feature introduced in Windows 11, but is currently limited to Microsoft standard applications.
 Another recent article in Windows, published just days later, seems to confirm that support for third-party widgets is on the way. He claims to have found an official document of support stating this but does not link to it. These widgets will reportedly be web-based (not Win32 or UWP), but users will not be limited to the Microsoft Store in their installation.
The ability to put multiple apps or pages on the Start menu and make some slight changes to the context menus is unlikely to have much effect. The same can be said for the option of replacing the rounded corners of Windows 11 with a traditional flat design.
According to further information leaks, what will also be updated within the settings are: Touch, Themes, Taskbar, Touchpad, installed applications, advanced applications, default applications, Microsoft account, language and region, date and time, mouse and touch pointer, Ethernet and Wi-Fi, VPN and Find my devices.