Hyundai Ioniq 6 wants to put the Tesla Model 3 on the ropes
The automotive industry is undergoing a period of technological immersion, which is reflected in models such as the Hyundai Ioniq 6, which the South Korean company just unveiled. A fully electric automobile that tries to foreshadow the next generation of EVs, directly competing with media reference models such as the Tesla Model 3.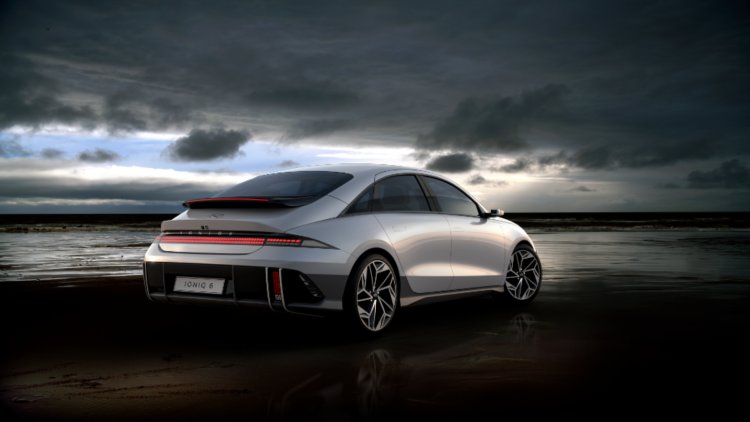 Photo Credits: Hyundai/Promo
The days of internal combustion engines are numbered (2035 in Europe). Electric and self-driving cars are the future of mobility, and the Hyundai Ioniq 6 is well prepared for them. The company has shown the "Prophecy" concept on which it is based in society two and a half years before it reaches the public at the end of the year.
It is the second model in the IONIQ series, which was introduced in 2021 and promises to launch up to 23 electric vehicles by 2025. It is built on the same Electric Global Modular Platform (E-GMP) as all-electric vehicles sold under the Hyundai and Kia brands. The powertrain's power and autonomy have not been published, but it is certain that it will enhance the Ioniq 5's 480 kilometers.
Its design is apparent, and while Hyundai claims "cleaner and simpler lines," its radicalism may surprise you. Naturally, its aerodynamic coefficient (0.21) is exceptional. With a single rising line at the lower sill and a modest curvature of the D-pillar as it flows out the tailgate and meets the rear fender, the body surface is remarkably smooth.
The company's unique Parametric Pixel design is employed for the taillights and headlights, with approximately 700 tiny squares used in various places of the bodywork. Buyers will be able to select from dozens of different body colors, as well as six two-tone themes.
Its inside is not as avant-garde, but it is highly technical. The majority of the controls are electronic and can be found on the multi-information display as well as the central entertainment unit, which has two 12-inch screens. Hyundai claims to have used eco-friendly materials such as recycled PET fabric for the seats, paint generated from vegetable oil for the doors, and floor mats created from recycled fishing nets.
The Hyundai Ioniq 6 is expected to be available later this year or early in 2023, with a starting price of $45,000 in the United States. It will make its public premiere at the Busan Auto Show in July, where we will learn more about it.
Post by Bryan C.