Lazzarini's superyacht concept has a giant hole in its center!
It also has a glass-bottomed infinity pool.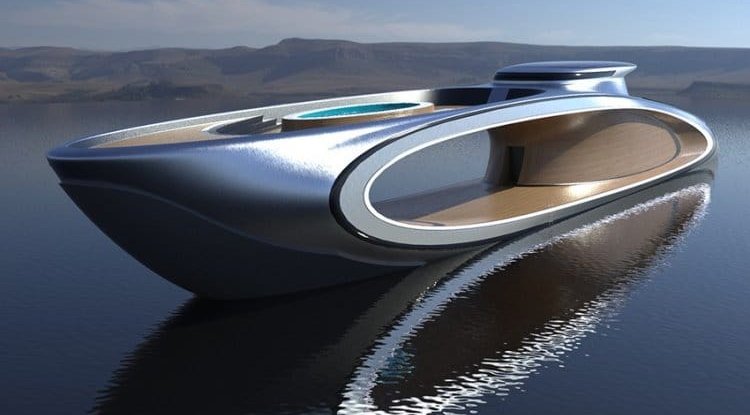 Photo Credits: Lazzarini
A vast opening in the side of a superyacht is normally viewed as something terrible, yet not as indicated by Lazzarini.
The Italian design studio, known for producing all sorts of problematic creations, has quite recently uncovered another 226-footer with a huge void right in the center of the superstructure. The idea, which has been fittingly named Shape, has a genuinely singular outline with smooth, futuristic lines and a glimmering silver body that clues at the cutting edge technology included throughout the yacht.
The best component is, obviously, the arc, or "hole deck" as Lazzarini calls it, which can be altered to every sailor's necessities. The huge space, accessed via a door at the vessel's bow, is ideal for relaxing and is fitted with stairs that go down to the ocean so you can take a dip whenever you wish.
Shape is delegated by a glass-bottom infinity pool placed on the upper deck. It permits the swimmers above to peer down on those beneath (or the other way around). Here, you'll likewise discover a helipad to facilitate the arrivals of the passengers onboard. At the stern, there is a waterside beach club that has a diving board, in addition to a garage for toys.
The lavish inside, which is found past the opening, ranges barely short of 115 feet and has been parted into three distinct decks. Six VIP suites occupy the main deck while the living quarters are located on the second. The command cabin is on the third. The top deck is additionally fitted with a Jacuzzi in the event that you wish to take a dip in privacy.
To finish it off, Shape is intended to run only on clean energy. Whenever constructed, it'll be furnished with what Lazzarini considers a high-level propulsion framework that runs on hydrogen and would be fitted with a roof that has solar panels in order to produce power for the locally available conveniences.
On the whole, Shape has truly broken the mold.
By: Olivia J. - Zexron