LG C1 55 inch 4K Smart OLED TV: Review
The design of LG's C-Series OLED TVs has not changed much this year either, and they are available in diagonals from 48 to 83 inches.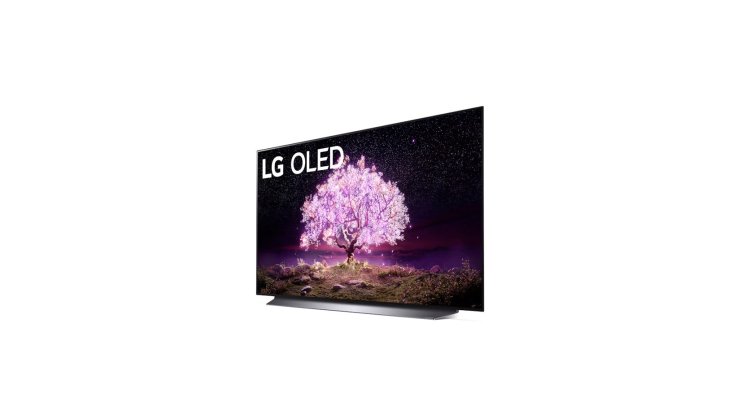 Photo Credits: LG/Promo
The most cost-effective OLED!
This year's LG offer of OLED TVs brought us much interesting news, after a long time of technologically improved OLED panels, but finally a very pronounced segmentation of the offer of LG OLED TVs, which this year, except for design, differ in price and gaming capability.
Distinctive design
From this year's LG offer of OLED TVs, the popular mainstream model C1 stands out as currently by far the most cost-effective option, considering that like the high-end G1 model it has the latest LG α9 Gen 4 image processor, which is much cheaper. True, the latest Evo panel with slightly better maximum brightness is not present in the C1, but considering the overall price, we don't even consider it a big minus.
The design of LG's C-Series OLED TVs has not changed much this year either, and they are available in diagonals from 48 to 83 inches. The OLED panel itself enables an extremely thin design, but the lower part of the C1 is a bit thicker, it has all the electronics there.
In terms of equipment, the C1 brings nothing particularly new compared to last year's CX model. On the other hand, LG already offered the undisputed best equipment in the C series last year, so there was no room for much improvement.
For example, speaking of C1, there are four HDMI 2.1 ports with full support for all advanced features like eARC, ALLM, VRR and clear 4K at 120 Hz. Furthermore, wireless connectivity is provided by WiFi 802.11ac and Bluetooth 5.0 modules, and the TV also has a total of 3 USB ports.
We have already mentioned that LG has redesigned its Magic Remote this year, ie the remote control supplied with their TVs. It's something different, now more square in shape, and some separate buttons have been added for streaming services like Disney + and Rakuten TV.
New webOS
The visual redesign of the interface was also experienced by LG's webOS, which has now reached version 6.2. This year's interface has undergone some changes, so it is now basically organized into separate cards or widgets and covers the entire screen. In the middle is a bar with the most commonly used applications, and at the very bottom of the special card for quick access to connected devices and other options related to receiving TV programs.
If you're used to one of the previous versions of webOS, the new interface will seem less clear at first, but it's all a matter of habit. Undoubtedly, webOS still makes TV easy to use, and includes support for a huge number of applications, as well as for all the most popular streaming services. Apple's AirPlay2 and homekit are also fully supported, however, webOS does not have integrated support for Chromecast.
OLED is still on top!
Unlike the redesigned webOS, the image quality of LG's C-Series OLED has not changed, which is good because it is still top-notch. LG also kept all of last year's pre-defined image display profiles on the C1. Traditionally, Cinema and ISF Bright and Dark profiles provide the most accurate color display and the best display of SDR and HDR content. This time it seemed to us that the other profiles are even less usable than before with a lot of "cool" color.
By the way, the menus for adjusting all the parameters of the device this year are divided into four basic categories: general settings, picture, sound and support. What we didn't like was that the power save-off option (which includes automatic brightness adjustments) is hidden inside a menu that includes options for troubleshooting the OLED panel.
Speaking of the image processor, LG still relies on its Alpha 9 processor, now in its fourth generation. This year, new AI options are available to automatically adjust the picture and sound depending on the source and content. Alpha 9 is still a very capable image processor that provides excellent video signal processing as well as excellent up-scaling with lower resolutions.
LG's TrueMotion motion picture display system is also one of the best on the market which makes this TV ideal for displaying sports content as well as movies because of the low frame rate compensation for 24 fps content.
Great gaming TV!
HDR content still looks great on OLED TVs, primarily because of the infinite contrast and despite the fact that in terms of maximum brightness, OLED TVs now lag far behind, for example, Mini-LED competitors.
A novelty is certainly the Game optimizer mode intended for playing games in which the TV automatically switches when detecting, for example, the latest consoles such as PlayStation 5. This is actually a hub with a special display of all information and options related to the gaming capabilities of the TV. The options are really many, but we think that some of them should be more easily available outside of the Game Optimizer. However, in any case, the C1 has impressive gaming capabilities, whether you use a console or a PC.