LOW THERMAL CONDUCTIVITY: HIGH EMOTIONAL EXPRESSIVENESS
Low thermal conductivity. High emotional expressiveness. Hublot launches Big Bang Integral Ceramic in three new shades: white, blue and gray.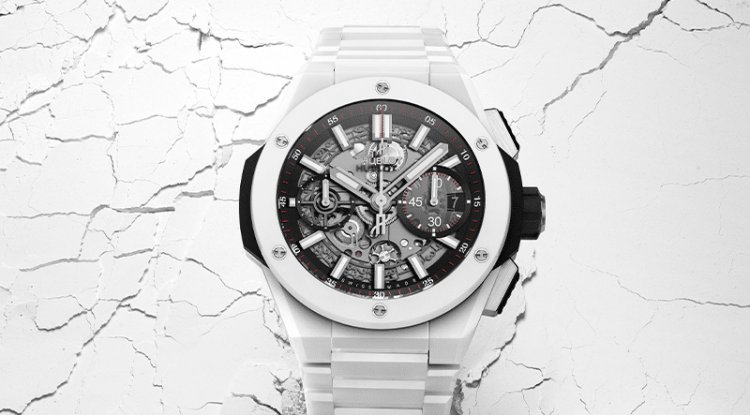 Photo Credits: hublot / promo
The low thermal conductivity of ceramics versus the high emotional expressiveness of colors. Hublot launches Big Bang Integral Ceramic in three new shades. After the development of Integral in steel with its first bracelet, this year it returns with new material and unique colors. The Nyon manufactory tests a sport-elegant in ceramic: white, navy blue and gray.
A single material and one-color design with one-piece architecture. The hypoallergenic properties of a lightweight, resistant, and scratch-resistant material for the Big Bang Integral. What is interesting about Hublot is that it always approaches any proposal with freshness and imagination, such as the case of ceramics that has already been on the watch market since the 80s.
White is in vogue, blue is a classic color - here with an elegant dark touch - and gray looks really modern similar to titanium - a completely different hue from the latest Concrete Jungle release in cement composite.
A new aesthetic for the Integral Big Bang with polished color ceramic and a satin finish that provides a slight precious shine that also extends to the three-handle bracelet perfectly integrated into the case by the conjunction of the handles.
LOW THERMAL CONDUCTIVITY VS HIGH MONOCHROMATIC EMOTIONAL EXPRESSIVENESS
Big Bang turned 15 in 2020 and once again exhibits its evolutionary genetics and adaptability. A watch that perfectly synthesizes the "art of fusion" and continues to break ground in the same way that it laid the foundations for collections such as Classic Fusion or Spirit of Big Bang.
Big Bang Integral Ceramic maintains the skeletonized design of the dial and it's 42 mm. And it is fully carved in ceramic, except for the bezel, with rubber inserts on the crown and pushers. Assemble the in-house caliber HUB1280 flyback chronograph with a 72-hour power reserve. It is the UNICO 2 movement, the second generation of the brand's in-house Chrono caliber.
A development that improved the preceding caliber HUB1242 on a technical level with four patented innovations: oscillating seconds clutch, adjustable chronograph ball friction system, ratchet retention system with unidirectional tread, and precise racquet adjustment system.
An improved architecture that facilitates assembly and makes its operation visible. A movement that also has a flatter automatic winding system and whose thickness was reduced by 1.3 mm. Another of Hublot's striking novelties at LVMH Watch Week 2021. And the firm continues with its emotional expressiveness and contagion of positive sensations in this new look. —Leslie Lopez
Price: 27,500 USD