Overview: Corsair K100 RGB, most complete keyboard
A detail that always improves ergonomics is the backrest, especially when it is padded and thus relaxes the pressure on the joints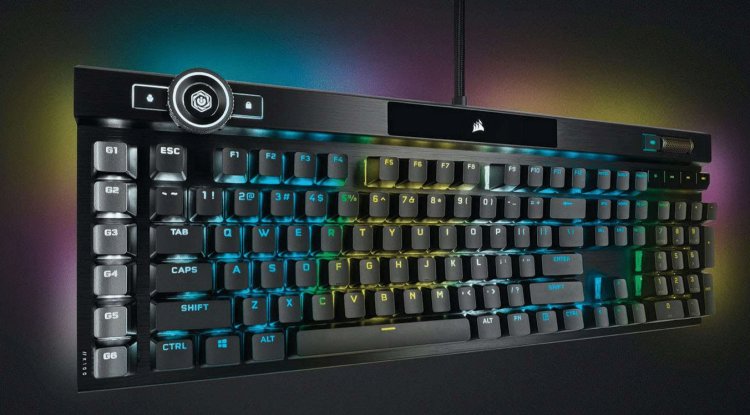 Photo Credits: Corsair /Promo
Full format model with optomechanical Corsair OPX switches. It also offers 6 macro keys, multimedia keys, iCUE control wheel and, of course, a large dose of ARGB lighting.
Unpacking
The Corsair K100 RGB keyboard is housed in a cardboard box with the brand's distinctive aesthetics, which shows the design of the product on the front and back of its key features.
Besides the documentation, it includes two sets of alternative keys with WASD and KVERDF, focused on FPS or MOBA, as well as a pull-out button and a very comfortable padded wrist rest with magnetic fastening.
Characteristics
The Corsair K100 RGB is a very long keyboard that offers a complete format of keys enlarged in the left margin, which brings it to dimensions of 470 x 166 x 38 mm. Its aluminum chassis, which weighs up to 1.31 kg, gives excellent robustness and a very well-finished design, with aesthetic additional ARGB LED lighting on all buttons. We can configure them from iCUE software with infinite layered effects.
On the left margin, there are 6 macro keys that have a curved surface to make it easier to press them, while it is possible to select their function from the iCUE software, as well as for the rest of the keyboard.
Control Wheel
But much more unique is the iCUE Control Wheel, a control wheel that allows us to control the brightness of the screen by default, to fast forward and rewind, to select the previous or next song, or to activate macro recording. In any case, from the software we can connect any action with both directions of rotation and with the central button as if they were other buttons.
It is in the central part of the upper margin of the Corsair K100 RGB where the usual LED blocking diodes are located, plus volume or game mode indicators. Meanwhile, in the upper right corner, there is a classic volume wheel and 5 multimedia buttons that allow you to stop playback, return to the song, pause it, skip to the next or turn off the sound.A detail that always improves ergonomics is the backrest, especially when it is padded and thus relaxes the pressure on the joints. Since it can be removed, no one can complain if they don't like it.
At the back, a 2-meter-long wired cable begins, topped by 2 USB 3.0 connectors, one of which is like the yellow connector bridge we see next to the cable outlet.Finally, a look at the base allows us to see how it has to stabilize rubber feet and lifting feet that allow 1 level of back height to adjust its ergonomics to our preferences.Let's not forget the fact that Anti-Ghosting technology works perfectly, allowing you to press all the skills of simultaneity.
Conclusion
One of the most complete keyboards, perfect for those who want a lot of accessories. The part of the metal chassis around which we find the Corsair OPX switches, offers 6 macro keys, multimedia keys and an iCUE control wheel, as well as a USB 3.0 port.