Possible Steam hit: What is Ranch Simulator about?
On March 4th, the full version of the Ranch Simulator will appear on Steam as a possible new insider tip. It has already been released in Steam Early Access.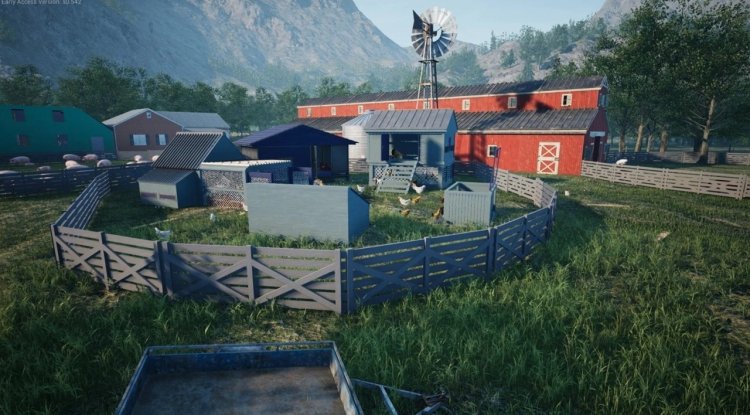 Photo Credits: TOXIC DOG / Promo
On March 4th, the full version of the Ranch Simulator will appear on Steam as a possible new insider tip. Toxic Dog's rural ranching simulator has already been released in Steam Early Access, so any interested player can try it out for themselves. We present the title to you in more detail.
In Ranch Simulator the player has to transform the neglected family farm into a profitable and successful ranch. In addition, you slip into the role of a cattle breeder, a hunter, a construction worker, and a trader at the same time. This all sounds like a Stardew Valley or Harvest Moon title. However, the ranch simulator does without pixel graphics from above and presents the events in 3D graphics from the first-person perspective. A comparison with the farming simulator would therefore be more appropriate. But while a game series like Farming Simulator tries to present a very realistic simulation of the equipment and work processes of farming, Ranch Simulator is more accessible and down-to-earth - especially when it comes to the animal husbandry aspect.
Ranch Simulator: Open game world, ranching and hunting trips
The Ranch Simulator offers an open world and is controlled more like a survival game. The dilapidated farmstead wants to be restored and expanded into small parts. Players buy tools at the local hardware store and suitable vehicles to carry out the various jobs. This is all so that the player can eventually buy or raise livestock and build the necessary barns, pens, and enclosures. But the ranch must remain profitable, so the cattle must be fed regularly to keep them healthy. Your own herds can only grow if the player approaches cattle breeding wisely. As a result, more income can be achieved through the goods produced.
Those who need a distraction from the strenuous ranch life then head into the open-world environment. There are countless wild animals to be found here, which you can hunt down with your trusty rifle. In this way, as a rancher, you also defend your homestead from wild animals such as hungry wolves. Anyone who already likes all of this can look forward not only to the release of the full version on March 4th but also to the release of the subsequent update on March 24th. This is intended to introduce quests from hunters and neighboring ranches. In addition, there will be another hunting rifle for hunting trips.
In other news, on March 1, 2022, Battle Cry of Freedom will be another insider tip on Steam. We took a closer look at the mix of military simulation, shooter, and role-playing game developed by Flying Squirrel Entertainment.
https://youtu.be/jHs2PWknVVQ