Project Nighthawk and Blackbird - Super-fast SSDs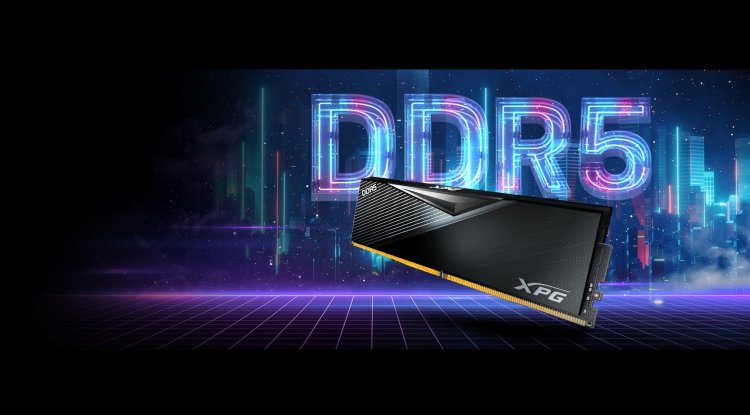 Photo Credits: XPG/Promo
With their newest PCIe Gen5x 4 SSDs and DDR5 DRAMs, XPG and ADATA brought gamers and other consumers to next-generation performance. Visitors got their first look at the XPG LANCER RGB DDR5 and CASTER RGB DDR5, which offer the high-level performance of up to 6000 MT / s and 7000 MT / s, respectively. Also exhibited is ADATA's DDR5-4800 U / SO / R-DIMM industrial-grade memory with ECC and PMIC on the same chip.
Two prototypes of the ADATA PCIe Gen5x 4 SSD were the fair's standouts.
"Project Nighthawk" with a Silicon Motion SM2508 controller with sequential read / write speed of up to 14/12 GB / s and "Project Blackbird" with an InnoGrit IG5666 controller and read/write performance of 14/10 GB / s were among them. Both SSDs have storage capabilities of up to 8 TB. ADATA also unveiled the new USB4 external SSD Elite SE920.
This external SSD has a transfer speed of up to 40 Gb/s and its own cooler with a built-in fan.
Thanks to the success of the gold-certified XPG CORE REACTOR, CES was the ideal place for introducing the most recent and powerful power supply - XPG CYBERCORE. It is a platinum-certified and Cybenetics-certified power supply that is equipped to fulfill the performance demands of the new CPU and GPU in 1000 W and 1300 W configurations. The XPG CYBERCORE power supply aims to make XPG one of the top power manufacturers in the market, thanks to superior XPG VENTO PRO fans manufactured in conjunction with Nidec.
XPG has released another prototype, this time a super ATX full-tower case XPG BATTLECRUISER PRO featuring tempered glass surfaces on all four sides, a software-adjustable fan, and built-in light control. The newest AIO liquid cooler from the LEVANTE series, the XPG LEVANTE PRO model, finished up the component showcase. It has a large round LCD screen that can be fully customized utilizing the XPG PRIME software environment, as well as the most recent ASETEK liquid cooling solution and high-quality XPG VENTO PRO 120 PWM fans.
XPG also debuted a new line of ALPHA gaming mice with ergonomically redesigned grips and the PIXART PAW3335 excellent optical sensor. This series includes a wireless version that can connect to 2.4 GHz when playing or via regular Bluetooth for everyday usage, as well as a wired version. All of the items work with the XPG Prime software environment.
XPG also lets guests see the latest concept product, the XPG VAULT, a wired USB-C mouse that aims to be a "collection of games in the palm of your hand." The current prototype may incorporate up to 1 TB of Solid State memory at 985 MB/s as well as Gaming Launcher software, which will make your game library practically portable and introduce a greater degree of game interaction with the XPG Prime software ecosystem.