Straight Power 11 Platinum 850W - Quiet power
Despite the fact that Straight Power 11 Platinum does not have a semi-passive fan mode, in practice, it is extremely quiet.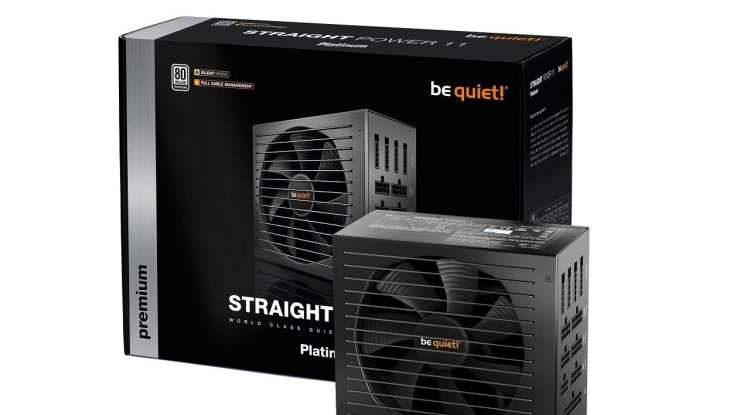 Photo Credits: Be Quiet / Promo
As with other be quiet! products, the power supply design is subordinated to quiet operation. Despite the fact that Straight Power 11 Platinum does not have a semi-passive fan mode, in practice, it is extremely quiet.
Total power
850 W
Power along voltage lines
+3.3 V - 25 A (100 W)
+5 V - 25 A (100 W)
+12 V I - 21 A
+12 V II - 21 A
+12 V III - 26 A
+12 V IV - 26 A
+ 12 V combined 849.6 W
Efficiency
80PLUS Titanium - 94% at 50% load
Cooling fan
135 mm
Length
170 mm
Number of PCIe / EPS connectors
4/2
Number of SATA / Molex connectors
11/4
Warranty
3 + 2 years (see text)
High-end graphics cards and processors also consume a lot of electricity, so power supplies over 750 W are no longer in the realm of an exaggeration but real needs. Straight Power 11 Platinum models are designed for such configurations, and in addition to top efficiency, the promise of quiet operation, they also offer completely modular cables. These cables come neatly divided into two large bundles fixed with a Velcro strap. All cables are made with an outer cover of woven plastic mesh. At the end of 12-volt cables, there are no ferrite cores that would reduce their flexibility, but on all cables where the network ends, plastic ties are placed, and on top of them a thermal sleeve. In other words, cables could be more flexible than they are.  
In addition to the main ATX cable, two 8-pin EPS cables (one whole, the other 4 + 4), three PCIe cables with four connectors (x2, x1, x1), two cables with two SATA and two Molex connectors, one cable with four SATA connectors and one with three SATA connectors. The package also includes an adapter from Molex to floppy connector, which really doesn't make sense nowadays. In fact, it is not clear to us why there are so many Molex connectors on the power supply, but since these are modular cables, and SATA connectors are in decline, in the end, it doesn't matter much. On the other hand, it is interesting that the PCIe cable with two connectors has a rather unusual design in which the two cables branch directly from the connector that connects to the power supply. We have not seen such an approach so far.
Active, but quiet
The Straight Power 11 Platinum series consists of 550, 650, 750, 850, 1,000, and 1,200 watts, and we tested the 850-watt. It is also the weakest model with a longer, 170-millimeter body, while even weaker ones have a 160-millimeter one. The power supply makes an impression of exceptional quality. A protective fence of parallel bars is placed on top of the 135 mm Silent Wings 3 fan while the rear of the power supply is perforated with holes. The part with the city network connector and the power switch is up to full sheet metal so that the airflow is directed through the essential components.
The fan does not have a semi-passive mode as with some other power supplies but always rotates at least a little. This is a disadvantage in terms of fan durability, but when it comes to noise, there is really no difference. The 135 mm fan spins very slowly and only starts to accelerate slightly when the supply load exceeds 50%. In our test where the power from the socket "pulled" up to 659 W, we could not see the difference in fan noise, neither subjectively nor with the instrument, which is understandable given that components that consume so much electricity and have considerable cooling. In particular, we used Intel's new Core i9-12900K in combination with Gigabyte's RTX 3080 Ti.
The power supply copes well with the load, with a minimal and imperceptible increase in fan speed and superior 12-volt line regulation. The stability of the 3.3-volt, and especially the 5-volt line could be better. As the name implies, Be Quiet's power supply offers an 80 Plus Titanium efficiency level which means it performs power conversion from AC to DC with an efficiency of 94% at 50% load. Standard ErP and Energy Star 7.0 as well as C6 and C7 power states of Intel processors are supported. The domestic supplier of this power supply provides a three-year warranty, while an additional two years, up to a maximum of five, can be obtained directly through a manufacturer whose headquarters are located in Germany.
Pros
Very stable and well regulated 12-volt line
Extremely quiet work
High quality workmanship
5 year warranty
Very high efficiency
Cons
Plastic ties near all connectors
Combining molex and SATA connectors on the same cable
Weaker stability of 5-volt line
You can buy this product on Newegg for $175.