The Hummer EV battery is as heavy as the VW Polo
The built-in traction battery weighs around 1.3 tons and thus weighs about as much as a VW Polo VI GTI (type AW). His full weighs is around 4.1 tons.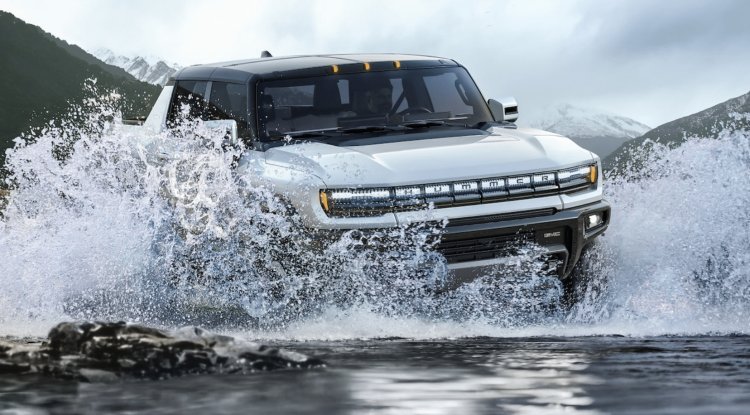 Photo Credits: GMC/Promo
This year, the American car company General Motors will revive the Hummer brand and make Arnold Schwarzenegger happy. The off-road vehicle will be available as a pick-up and SUV. Instead of a bubbling V8, however, electric motors are used. The power comes from a 212 kWh battery pack from the GM Ultium series. As GM's official entry at the American Environmental Protection Agency shows, the electric car weighs around 4.1 tons. The built-in traction battery weighs around 1.3 tons and thus weighs about as much as a VW Polo VI GTI (type AW).
Range of around 530 kilometers
A lithium-ion battery with a capacity of 212 kWh lugs around a huge backpack of pollutant emissions, since a lot of material, is required for production. However, a Hummer with a V8 petrol engine is not exactly environmentally friendly either. According to the manufacturer, the Hummer EV can be recharged with up to 350 kW of electricity at the corresponding HPC fast-charging stations, so that a range of around 160 kilometers can be charged in ten minutes.
According to GMC, the Hummer EV can travel a maximum of 530 kilometers on one charge, which is relatively low given its 212 KwH battery. This is because of the tall structure and the immense dimensions of the vehicle. The Hummer EV from the GMC brand is 5.51 meters long and 2.20 meters wide (without exterior mirrors). The distance between the axles is 3.45 meters.
A maximum of three electric motors provide propulsion, which in the top model together achieves over 1,000 hp and delivers around 15,600 Newton meters of torque to the wheels. You can speed up from a standstill to 60 miles per hour (96.56 km/h) in around three seconds. Slower versions should only be available to order from autumn 2022. The top model costs from $110,295, the basic model called EV2 should drive off the assembly line in Detroit for around $80,000 from the beginning of 2024 and have a maximum range of 400 kilometers per battery charge. Besides the pick-up version, GMC will also launch an SUV version from early 2023 bring. The length of the Hummer EV SUV is reduced to just five meters compared to the flatbed variant, and the range of the $100,000 top model increases to around 560 kilometers. As an SUV, the GMC Hummer EV costs at least $80,000. In toy format, the lobster is naturally smaller and less expensive.
Google Assistant & Unreal Engine
Inside, each Hummer EV has two screens. A 12.3-inch display sits behind the steering wheel and a 13.4-inch touchscreen sits enthroned in the middle. As is usual with all GM innovations since 2020, Google Android Automotive powers the infotainment system, so passengers also have access to apps from the Google Play Store. In order to provide better graphics, GMC relies on its own UI, which was developed with Unreal Engine 4.
Since 2020, Google has found its way into every newly introduced GM model. For example, the Cadillac Escalade SUV, which has been available since 2020, displays Google Maps & Co. in a digital cockpit with three LG P-OLED panels. The US car company General Motors has seven brands with specific areas of responsibility. Chevrolet, Holden and Baojun cars are in the budget segment, while the Buick brand is priced higher. Cadillac is the premium brand, while GMC is used for SUVs, pickups and vans, and trucks. For sports cars, there is the Corvette brand, with the Chevrolet Corvette, which also cuts a fine figure as a toy car. From 1931 to 2017, GM was also the owner of Opel, a company founded in Germany, before Adam Opel AG was taken over by the French group PSA and has belonged to Stellantis since 2021.
GMC Hummer EV collection:
As the Environmental Protection Agency shows, the upcoming GMC Hummer EV electric car weighs around 4.1 tons. Manufacturer GM had this information entered the database.
Of the 4.1 tons, the battery alone weighs 1.3 tons and has a capacity of 212 kWh.
The body, which is over 2 meters high, 2.20 meters wide and 5.51 meters long, stands steeply in the wind so that the range should only be around 530 kilometers.
In the $110,295 top model, three electric motors provide over 1,000 hp and acceleration to 60 miles per hour (96.6 km/h) in around three seconds.
Inside, GMC relies on Google Android Automotive and its own user interface based on Unreal Engine 4