Xiaomi 11T Pro Review: Create Cinemagic
The powerful Snapdragon 888 paired with 8 or 12GB of RAM and 128 / 256GB of ROM, guarantees top performance here without overheating.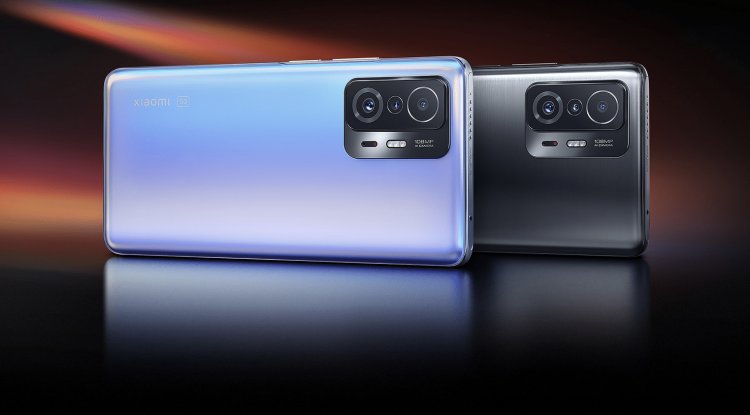 Photo Credits: Xiaomi/Promo
DESIGN AND ERGONOMICS
The design of the Xiaomi 11T Pro is a typical Xiaomi phone, and we could say that it is a typical big phone in general. First, you will notice the mass, which is noticeable, and the result is a glass-metal housing and a large 5000 mAh battery.
Everyone who likes flat screens will like the front. It is covered by a beautiful 6.67″ AMOLED screen, a fairly thin frame, symmetrical thickness on all sides and a small selfie camera hole in the middle. A protective foil is applied over the screen at the factory.
Above the screen along the top edge, there is a call handset slot. At the top are precisely drilled holes for a speaker that with another on the lower edge provides a stereo experience. Above are another microphone and IR blaster universal remote control.
Below are USB C, main microphone and a tray for two nano-SIM cards. There is nothing on the left side, and on the right, in addition to the volume control button, the Xiaomi 11T Pro also has a Power button with a fingerprint reader.
The back is covered with rounded glass, great finishes, so they collect a lot of stains and grease from the fingers. This will help the transparent mask in the package. In the upper left corner is a rectangular module with three cameras and an LED flash. It doesn't protrude too much, and not at all in the mask.
On the other hand, the Xiaomi 11T Pro gives the impression of high-quality workmanship and is resistant to splashes according to IP53 certification.
It is big and heavy, and without a mask and quite slippery to handle with one hand. If you are already used to big phones, you will not be invincible.
SCREEN
If there's anything wrong with this phone, the screen certainly isn't. It is a very nice AMOLED panel in FHD + resolution at a diagonal of 6.67″. A strong asset is its 120Hz refresh, which makes displaying and scrolling content even more fluid, and raises the overall user experience to an even higher level.
The color rendering is adaptable and, as a rule, AMOLED with deep black notes. In addition to several pre-defined color display modes, there is also an adaptive one that adjusts the color display according to the ambiance, probably modeled on Apple's True Tone.
The readability at an angle is excellent, although not as good as on Samsung phones, and the brightness is usually sufficient for outdoor use, although there are brighter ones. You will enjoy watching this screen for hours, which will be supported by excellent autonomy. We like that the AlwaysON display is supported and here in the true sense without a 10-second limit as on most of today's Xiaomi mid-range phones. He gets involved in the boot so it works nicely with Face Unlock. Plus are Gorilla Glass Victus, today's most resistant protective glass and pre-applied foil.
CAMERA
Xiaomi is pushing this phone a lot as a phone with a top camera. They announce it as film magic, emphasizing the top quality of the video. The main camera is the 108MP wide-angle camera, although without OIS, and it also has an 8MP ultra-wide and 5MP macro sensor.
That main camera records video up to 8K quality, but I guess most will record really impressive 4K at 30 and 60fps. The front 16MP selfie camera captures solid portraits with blurred backgrounds and 1080p video.
The camera interface will be familiar to those who have already used some of the Xiaomi smartphones so far. In addition to automatic, it also offers Pro mode, Night, Portrait, but also those Movie effects, Panorama, Vlog and others.
The 108MP camera compresses pixels by default, but in pro mode, you can also record at full 108MP. This main camera allows you to take really great photos in a variety of conditions. In Night Situations, the phone will automatically launch the Extended Exposure Night Mode, but you can also select it manually.
The ultra-wide camera will take better photos during the day, while the macro camera is also quite good in conditions with a lot of light.
The telephoto camera is missing, so the zoom will be done exclusively digitally. Some will resent it, and it doesn't play a role for me personally.
ANDROID 11 + MIUI 12.5.10
MIUI 12.5.1 is based on Android 11 and I would say it proved to be in the best light so far. It doesn't look new, but it's somehow smoother than ever.
I like the large dose of customization options through full themes, icons, wallpapers and sounds. The lock screen is typical, and so is the Home screen, which offers an option with and without an app menu. The far left is a Google Discover news feed, and at the bottom a dock with up to five icons of your choice.
You can navigate the system with the buttons at the bottom of the screen or gestures. There are a bunch of those gestures that make it easier to work on phones with big screens.
Swipe down closer to the right edge of the screen to lower the Control Center and the Notification Center on the other.
The classic set of Google applications, complemented by Xiaomi tools. One of them is the Mi Remote, which turns the phone into a universal remote control.
PERFORMANCE AND BATTERY
The powerful Snapdragon 888 paired with 8 or 12GB of RAM and 128 / 256GB of ROM, guarantees top performance here without overheating. In real use, this means a smooth user interface, fast internet surfing and a great gaming experience.
There are no microSD card slots, so what you pay for will have to be enough.
The fingerprint reader on the side is fast and reliable, and with it, you have Face Unlock, which also works fast but is less secure.
I had no problems with the quality of phone calls, GPS and NFC. Some are afraid of proximity sensor problems, but I haven't noticed them here. This is the sensor that should turn off the screen when you hold the phone to your ear when making a phone call.
5G mobile internet speeds and Wi-Fi 6 are also supported.
For many, the biggest advantages of this phone will be the battery and charging. Namely, its 5000 mAh battery offers over 10 hours of on-screen display. It will depend on habits, of course, but autonomy will not be a problem for anyone. If for some reason you happen to be stuck with the battery, up to 100% of the 120W charger in the package will charge in less than 20 minutes. Really fantastic.