Phanteks: New Revolt SFX power supplies
Despite the increasing power consumption of GPU, there are much more Mini-ITX cases in which users install the latest hardware in the smallest possible space.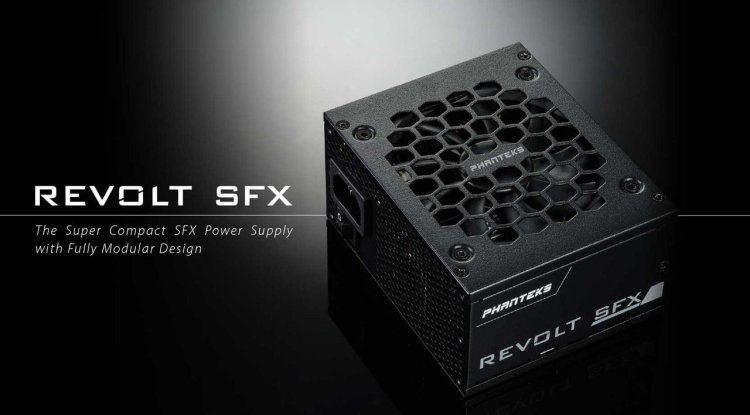 Photo Credits: Phanteks / Promo
Despite the increasing power consumption of graphics cards, there are more and more Mini-ITX systems in which users install the latest high-end hardware in the smallest possible space. This is often accompanied by smaller form factors for the power supplies and little space for assembly. Phanteks follows this trend and has now presented a new case with a party trick and SFX power supplies.
While high-end components used to not be available in small form factors, there are now ITX mainboards and SFX power supplies with respectable performance. With the Evolv Shift XT and the Revolt SFX series, Phanteks has therefore introduced a new, small, variable housing and a power supply series in the SFX form factor.
The Evolv Shift XT is said to be a premium case that can adjust its internal volume in three stages. The volume should be able to be changed from 13.5 to 15.6 or 17.4 by being able to be pulled out vertically. In the smallest expansion stage, a 324 mm long graphics card should still be able to be installed, while the CPU cooler then has to be very flat at 72 mm. The graphics card is connected to the supplied PCI-E 4.0 riser and locked in place. The housing has a USB 3.0 type A and a USB 3.1 type C on the connection side. The lighting can be controlled via an ARGB connection on the mainboard or via a switch for color modes. For maximum cooling with a large volume, a 240 mm AiO solution or two 140 mm fans can be installed in the housing cover.
The Revolt SFX power supplies are available with rated outputs of 650 and 750 watts. They achieve at least 80 Plus Gold certifications, while the 750-watt model can also be purchased as a Platinum version. All three power supplies are said to have a zero-fan mode when the load is less than 30% and then work silently. The Phanteks Evolv Shift XT will be available in black and silver from March 16th. The RRP is $180, the starting price is $160. The SFX power supplies, on the other hand, are available now and cost from $140 to $180.
In other news, we start with the name MSI MPG VELOX 100R. The Taiwanese brand has been using VELOX in its gaming configurations for several months. We had to wait a few months to finally see how VELOX 100R, as well as VELOX 100P AIRFLOW, arrive on the market.
These two boxes come from the MPG range, which is MSI's high-end segment. They come to join their little brothers and sisters, among whom are the Gungnir, the Sekira, or the Quietude.