Powerful PC for everything in 2022
We have an example for a super PC for 2022 and several alternatives. The reason is finally powerful Intel new series of processors that pleasantly surprised.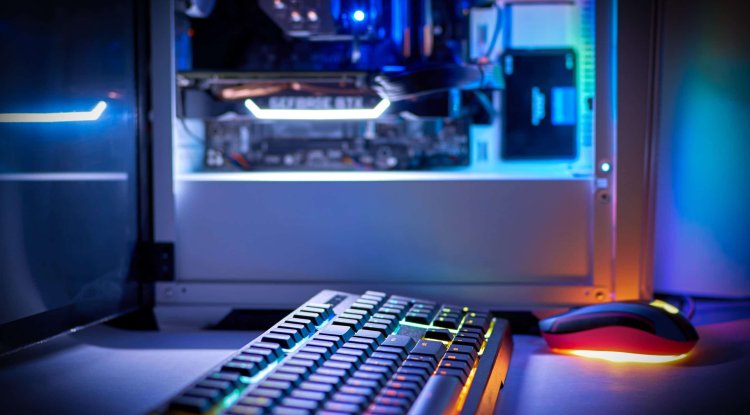 Photo Credits: DepositPhotos
We have an example for a super PC for 2022 and several alternatives. The reason is finally the once again powerful Intel new series of processors that pleasantly surprised. Since we've been compiling PC Ultimatums, we've used components that will get the most out of every app and game we run. The graphics card remains a sore point of every new build and that won't change for a while. According to estimates by Nvidia and AMD, such prices will continue through 2022.
Intel Core i9-12900K
The top of Intel's mainstream offer certainly impresses with its performance, and anyone who can use it will be more than satisfied, considering that AMD has significantly raised the prices of its processors in the last generation, so Intel's top offer also offers better performance at a lower price. When you enable automatic overclocking with a solid AiO cooler, it's easy to see even better performance with stable computer operation.
Of course, you can get even more out of yourself if you're willing to roll up your sleeves for the ideal power-to-performance ratio for your refrigerator. This processor contains eight Performance cores that support Hyperthreading for 16 high-performance threads. In addition, you get eight more Efficiency cores to perform less demanding tasks or, if the job requires it, help the major in multi-threading. What you need to pay attention to is definitely the compatibility of the cooler because the current one will not fit the new dimensions of the processor and they will need special brackets from the manufacturer.
The processor also consumes 125 to 241W of power, so be sure to prepare superior cooling if you want to use its full potential. The processor also comes with an integrated graphics component, so it can run without a separate card, but keep in mind that the performance is adequate for desktop office tasks, and will take away the energy that would otherwise go to the main processor cores.
ASUS board in the Z690 series, which is roughly in the middle of a new range of boards for the 12th generation of Intel processors, costs almost as much as the most powerful compatible processor. There are, of course, more expensive models, and that lets us know how much it costs to implement new technologies that Intel is bringing. A good part of the plate, we would say even half of the surface, is covered with passive coolers. They cool up to four M.2 PCIe 4.0 × 4 SSDs, the chipset cooler has a velcro holder so it's easy to locate, and the rest of the cooler is a VRM solution, the part in charge of supplying the entire board with stable electricity divided into 16 + 1 configuration.
The board enables advanced overclocking of the processor, but also working memory, because it can bypass locked PMIC systems and increase the voltage on the working memory for more stable overclocking. While the board itself has a subtle dark design and a bit of acrylic surface that you can illuminate with RGB, it contains as many as three ARGB 5V headers and of course a couple of classic 12V RGB headers. The board supports up to 128 GB of DDR5 memory with speeds up to 6400 MHz. The main PCIe × 16 slot uses all 16 lines of the PCIe 5.0 standard, while the rest are limited to the PCIe 3.0 standard via chipset.
The connectivity with the network has also been improved, as it provides 2.5-gigabit Ethernet as standard, as well as the implementation of the latest Wi-Fi 6E standard, which together with the existing ones opens new communication channels within the 6 GHz spectrum. At the rear, among other things, you get one USB 3.2 Gen 2 × 2 connectors, as well as a header for its front version. A big plus of ASUS boards is certainly the implementation of LGA1200 holes for coolers, so the previous coolers can be easily installed on new boards, but watch out for space because of the large passive VRM coolers.
The new generation of DDR5 memory is brought to us by Kingston and sets the standard by which we will see the progress of the new. DDR5 memory starts from speeds that are considered very high in the DDR4 world, and with its XMP profiles, it easily overclocks to significantly higher values ​​without any user problems. XMP 3.0 now additionally unlocks two custom profiles that you can store yourself in memory and run them easily once you find the perfect timing and frequency.
This memory now includes integrated accuracy checking with the OECC (on-die ECC) standard to ensure high-frequency accuracy. Let's not forget that the new cookies control the voltage themselves using a PMIC chip on each module, and Kingston FURY Beast memory allows you to choose between 1.1 V, 1.25 V or 1.35 V for greater flexibility in setting frequencies. The new DDR5 memory starts at 16 GB on one module, and for now, sets of 32 GB of memory are offered, which is of course our recommendation when assembling a new computer.
Activating a faster mode stored as an XMP profile also depends on the motherboard, but for the most part, you will need to go to the BIOS and activate the profile on the home page. DDR5 memory, in addition to faster clock speed, itself uses two channels for data transfer, so technically with two DDR5 memory modules, you get some benefits of Quad-channel memory, which will be seen in specific tasks that such functions can use, such as compression some data.
Other tasks will see an improvement in performance compared to DDR4 memory, but we believe that the real differences will only begin to be seen when the software is better optimized for the new standard. An important detail is that the new memory brings many other improvements above just a higher clock speed, and the integrated ECC will certainly lower the price for systems that require high accuracy in the data processing. We used memory with a speed of "only" 5,200 MHz for our build, but we also offer versions of 5,600 MHz and 6,000 MHz, but be sure to check the capabilities of the motherboard you buy because most only top models support such high RAM frequencies.
Kingston FURY Beast memory uses a low profile so it has improved compatibility with larger heatsinks given the thermal needs of the new processors, so if you don't want an AiO heatsink, you're forced to take the biggest classic heatsinks. DDR5 memory at first looks the same as the DDR4 version, but if you take a closer look at the module itself, the notch on the side that connects to the motherboard is now in a different location, so DDR5 memory cannot be accidentally placed in an older board. When installing, do not force the module, but it should sit in place with light, even pressure.
The top of AMD's RDNA2 architecture comes to us in the form of their card that now costs significantly more than the expected MSRP price, even for our market. But if you really want to take advantage of the new 144+ Hz monitor at QHD + resolutions, right now that's the price you'll have to pay. The card can bring top performance from most games at high graphics quality, and also supports RayTracing functionality. As is usually the case, RayTracing will significantly reduce performance (by about 50%), adding effects depending on the implementation in games, but it is mostly about better shadows or reflections within the game.
AMD offers the FSR option as a solution, similar to Nvidia's DLSS. After implementation in the game, FSR can render at a lower resolution and then enlarge the image to be equal to the resolution of your monitor. While the loss of detail is minimal (depending of course on the level you choose), each game must implement this functionality for itself, which means that the functionality will be limited in the beginning, as well as RayTracing. Screen frequency is an important factor, and when playing power between the processor and the graphics card.
After exceeding 100 Hz, the processor must also be fast to get the most out of the overall system. This card also supports Smart Access Memory technology, which is also enabled on new Intel processors and is enabled within the BIOS. You get 16 GB of GDDR6 memory, 5120 Stream processors, 80 Ray accelerators, full HDMI 2.1 standard specification, all with a power consumption of up to 300 W.
When you are already buying the most modern system, be sure to take the modern M.2 PCie 4.0 × 4 SSD storage so that the rest of the system always has access to the necessary data. This SSD is intended for gamers, enthusiasts and professionals who seek only the best and require the fastest possible storage system. These drives come with their own aluminum heatsink so you won't be able to use the heatsinks on the motherboard for SSDs.
You can technically peel off the refrigerator, but we do not recommend this because you could physically damage something. Phison's 8-channel E16 controller, Toshiba's 3D TLC memory, DRAM cache and the corresponding SLC cache are used. The SSD comes in 512 GB, 1 TB and 2 TB capacities. For the new build, we recommend the main SSD of at least 1 TB, but be prepared to buy additional memory if we are talking about a gaming build given the high memory requirements of today's games. Patriot offers as much as 5 years warranty on the disk so you can be sure of the reliability of data storage. Read speeds reach up to 5,000 MB / s, while you can write at speeds of up to 4,200 MB/s.
AiO water cooling of high performance intended for enthusiasts and overclockers, which is characterized by extremely quiet operation thanks to the damped pump. Available in 120, 240, 280 and 360 mm radiator versions. ARGB lighting on the block itself can be further personalized and coordinated with other RGB components of the computer.
The latest series of ARGB fans brings lavish lighting from the front and rear, and 18 ARGB LEDs provide great lighting adjustment options. The innovative design of the fan blades allows high air pressure and reduces turbulence, which ultimately provides significantly quieter operation without unwanted noise.
Attractive, spacious housing with a glass side that comes with a mesh front that brings optimized airflow and better cooling of components inside the housing. The spacious interior allows the accommodation of the most powerful components and the use of larger air or various water coolers.
The most efficient series of power supplies is to be quiet! ever produced. Unbeatable efficiency of 95.9% results in 80PLUS Titanium certification. A specially designed Silent Wings fan allows for near-silent operation, and an overclocking button allows switching between single-rail and multi-rail modes.